Cisco Meraki MX Firewall
Overview
Info
The Bitstream technology stack includes the Cisco Meraki MX line of security appliance firewall products.
The Cisco Meraki MX line is a pure cloud-managed, next-generation set of firewalls that includes industry-leading security, resiliency, and management features. Meraki network equipment is mandated in the Bitstream technology stack and is found at every site we manage.
The Meraki IDS, IPS, anti-malware, and content filtering features are a key component of our perimeter cybersecurity strategy.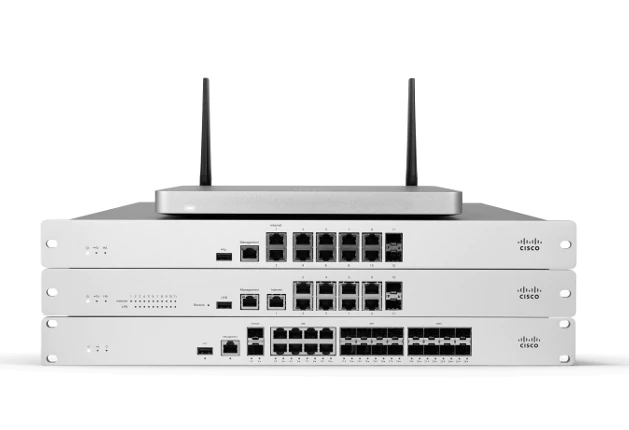 Features
Info
The Cisco Meraki MX firewalls include the following features.
| Feature | Description |
| --- | --- |
| Identity-based firewall | Automatically assigns firewall and traffic shaping rules, VLAN tags, and bandwidth limits to enforce the right policies for each class of users. |
| Intrusion prevention | Protects critical network resources from the latest security threats and vulnerabilities. |
| Auto VPN | Securely connects branch locations using mesh or hub-and-spoke topologies. |
| Content filtering | Block undesirable web content across 70+ categories, and leverage cloud lookups to filter billions of URLs. |
| Advanced malware protection | Protect your network against malware using the latest threat intelligence, and identify previously unknown malicious files with retrospective detection. |
| High availability & failover | Provides device and connection integrity through multiple uplinks, warm spare failover, and self-healing VPN. |
| Application visibility & control | Identify which applications are being used, and then prioritize critical apps while limiting recreational apps. |
| Centralized management | Seamlessly manage campus-wide WiFi deployments and distributed multi-site networks from a single pane-of-glass. |